Evaluation of the MIS Project






Evaluation was an integral part of the exhibit development process for the Microscope Imaging Station Project. It provided the means for collecting and incorporating feedback from our visitors to inform and iteratively improve the visitor experience.
Front-End and Formative Evaluation
During the project, the Exploratorium's Visitor Research and Evaluation Department conducted evaluation studies for our three floor exhibits: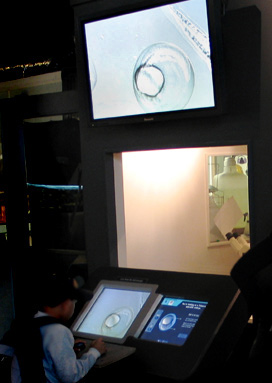 the Zeiss Axiovert200M inverted light microscope exhibit,
the LEICA dissecting microscope exhibit, and
the media pod exhibit
We also looked at visitors' experiences at our demonstrations.
Our work included both front-end evaluation that were conducted before any prototypes were built and formative evaluation on exhibit and demonstration prototypes. These studies focused on questions such as:
What specimens do visitors find compelling and accessible? This includes: what do visitors find interesting about the specimens we show and what questions do visitors have about what they see?
What, if any, difficulties do visitors have using the microscopes? In particular, can visitors find and focus on a specimen using the user-interface we've designed to control the Zeiss Axiovert200M and the LEICA dissecting microscopes?
How do visitors interpret and make sense of the images they see? More specifically: What do they notice about the specimens? Do they connect the images with the microscope? Do they connect the images to the specimens' biological and biomedical relevance and to aspects of their own lives?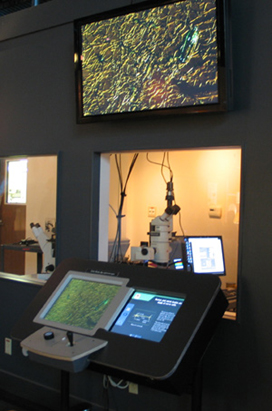 We used a variety of instruments, including open-ended interviews, semi-structured interviews, floor observations, visitor drawings, computer logs, and videotaping of visitor interactions and conversations. These studies ranged from quick studies with small sample sizes, used to identify critical problems and gain a preliminary impression of the visitor experience, to larger studies with statistical comparisons.
Summative Evaluation
At project completion, the Institute for Learning Innovation conducted a summative evaluation to assess how well the Microscope Imaging Station met the project goals for visitors. The summative evaluation also helped identify remedial changes for our exhibits and demonstrations.