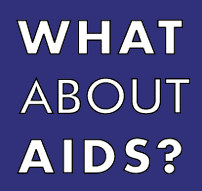 ---

The Exploratorium proudly presents What About AIDS?: Science, Art & Human Stories, an examination of the complex issues surrounding the HIV epidemic. This exhibition illustrates how HIV has acted as a catalyst for profound changes in science, art, and society.

What About AIDS? was developed by a national consortium of science museums, including the Exploratorium, with support from the U.S. Centers for Disease Control and Prevention (CDC).

During the past fifteen years, the San Francisco Bay Area community has been a world leader in creating an effective response to the HIV epidemic. In hosting this exhibition, the Exploratorium pays tribute to the thousands of local individuals whose dedication, courage, and compassion will help bring an end to AIDS.

The exhibition uses a combination of clear and concise text, personal stories, photo essays, and computer, video, and hands-on interactive devices to educate people of all ages about HIV and AIDS. Its scientific content, educational message, and accessibility were carefully developed and evaluated over a three-year period.
Co-sponsored by AT&T Foundation, BankAmerica Foundation, Genentech Foundation for Biomedical Sciences, and Levi Strauss Foundation. Media sponsors: BayTV, Creative Media, KRON-TV 4, and the San Francisco Chronicle.


The contents of this site will be updated, and information will be added as it becomes available.