EL CASTILLO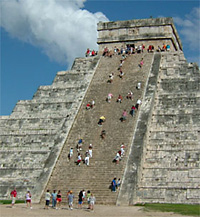 El Castillo—in Spanish, "the castle"—looms at the center of Chichén Itzá, a 79-foot pyramid of stone. Also known as the Pyramid of Kukulkán, the structure embodies Mayan myth along with natural astronomical cycles.

The phenomenon that El Castillo is famous for occurs twice each year, at the spring and fall equinoxes . (In fact, the effect is viewable for a week before and after each equinox.) As the equinox sun sets, a play of light and shadow creates the appearance of a snake that gradually undulates down the stairway of the pyramid. This diamond-backed snake is composed of seven or so triangular shadows, cast by the stepped terraces of the pyramid. The sinking sun seems to give life to the sinuous shadows, which make a decidedly snaky pattern on their way down the stairs.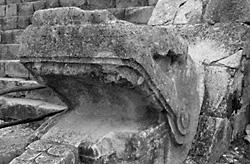 Thousands of people gather to see this phenomenon, which may have been viewed by the ancient Maya as the manifestation of the god Kukulkán, the feathered serpent. But was the effect intentional, or merely a happy accident?

It isn't possible to read the minds of the Maya who built the structure in roughly AD 1000, but various signs suggest the effect was deliberately created. The most obvious of those signs are the large snake-head sculptures carved into the base of the stairway. As the shadow moves down the stairway, the body of the snake ultimately unites with one of these enormous heads.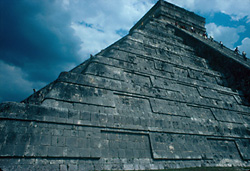 Other features of El Castillo suggest astronomical understanding and intent on the part of the Mayan builders. The structure as a whole seems to be aligned with an important astronomical axis: The west plane of the pyramid faces the zenith passage sunset. Meanwhile, each of the four (exceedingly steep) stairways that climb the pyramid has 91 steps, with a final step at the top making a total of 365, the number of days in a solar year. Ninety-one is also the number of days that separate each of the four phases of the annual solar cycle: winter solstice , spring equinox, summer solstice, and fall equinox.

Using the patterns of light and shadow appearing on El Castillo throughout the year, the Maya could easily have tracked the seasons and marked these four annual solar events—the two solstices and two equinoxes. And so it seems the ancient Maya may have used this structure as, among other things, a calendar to signal appropriate times to plant, harvest, and perform ceremonies.