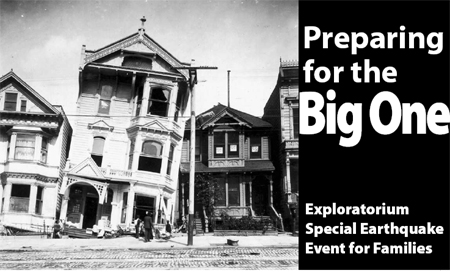 Saturday
April 15 2006
12 noon–4 p.m.
The 1906 and 1989 earthquakes were huge events, both seismically and socially. Experts say there's a 62% chance of another severe earthquake in the Bay Area within the next 30 years.

Join us as we explore the science and history of earthquakes!
All activities presented in English, Chinese, and Spanish
• Watch live earthquake demonstrations using spaghetti and chocolate!
Spanish 12–1 p.m.
Chinese 2–3 p.m.

• Build an earthquake-resistant miniature house.
• Create a tectonic plate puzzle.
• Watch a 3D presentation of the 1906 & 1989 earthquakes.