Note: All of the sounds below are in AIFF format.

Here is the sound source. It's really a re-packaged duck call! Notice the reed above the curved wooden surface. Air blows past the reed (from right to left) causing it to vibrate and produce a buzzing sound.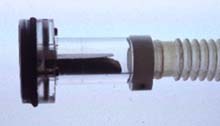 Click on the picture above.
The sound you hear is made by the reed as it vibrates.