Fractions of a second
Goalies have many unique qualities, one of which is excellent reaction time. In a game where the puck travels at high speeds, the difference between a goal and save can come down to milleseconds. How do you develop reaction time? Is it something you're born with? "I really don't think that you take anybody off the street without some prior God-given ability," Sharks Goalie Kelly Hrudey told us. The Exploratorium's Director of Life Sciences, Charles Carlson seems to agree, stating that reaction time is a "genetic trait." However he believes that you can improve your ability to react through practice since it is also a "memory function." Reaction time depends on both genetics and training.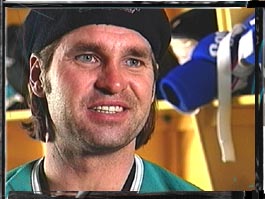 San Jose Sharks Goalie Kelly Hrudey talks about reaction time.