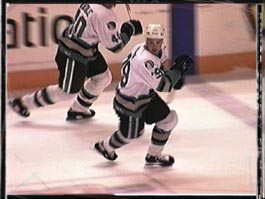 Hockey players move faster than players in any other team sport.
To be in the NHL you need to be, among other things, an exceptional skater. The players and coaches seem to agree that to be an effective skater, you need a combination of good technique and physical strength (although individual responses differed as far as which was the more important quality). The scientists in this section help break down the mechanics and physics of skating. Our exploration starts with the interaction between the blade and ice surface.
In this section there are RealAudio and video clips from chemist Gabor Somorjai of Lawrence Berkeley National Laboratory, Sharks' strength and conditioning coach Steve Millard, and Exploratorium scientist Thomas Humphrey.