---
---
P roject LINK (A Live and Interactive Network of Knowledge) a collaboration among Eureka Scientific Inc., The Exploratorium, and NASA/Ames Research Center conducted an air-to-ground point-to-point internet video conference between the Exploratorium and NASA's Kuiper Airborne Observatory (KAO) this September. Teachers, students and scientists in the air and on the ground conducted inquiry based science experiments and exchanged results and student questions via the internet.

T he project was intended to pilot-test strategies for facilitating the live interface between scientists and K-12 teachers aboard the KAO with their peers and students on the ground using the resources and technical expertise available at science museums and private industry.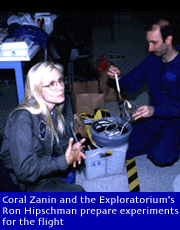 T wo teachers and one student from California had the opportunity to fly aboard the Kuiper, answer student questions, demonstrate experiments, and interview scientists. Teachers Coral Zanin of Middletown Middle School (Lake County) and Marco Meniketti of Sinaloa Middle School (Marin County) flew along with student Amber Mills (Middletown High School) aboard the KAO.
O ver 250 students and other visitors to the Exploratorium packed the Exploratorium's McBean Theater and participated in the live Internet video conference. Students participated in experiments on the ground and compared them to experiments in the air. Participants asked the teachers and scientist aboard the plane questions concerning pressure, infra-red light, cosmic rays and other phenomena.
| | |
| --- | --- |
| Click the "more info" button to read a personal reflection on the Project by teacher Coral Zanin | |
F ollowing Project LINK, the Kuiper Airborne Observatory participated in the educational television show "Live from the Stratosphere." Sadly, these were the last scheduled flights for the Kuiper Airborne Observatory (visit the link to Kuiper home page at the bottom of this page for more information). For more information about "Live from the Stratosphere" click the button below.
| | |
| --- | --- |
| Click the "more info" button to link to the "Live From the Stratosphere" homepage. | |
Click on the movie icon to view a short quicktime movie showing the inside of the KAO!.
1.7MB, Quicktime (240x180)
| | |
| --- | --- |
| Click the "more info" button for general information about Eureka Scientific Inc. | |
---

---
To view a Netscape 2.0 enhanced version of the Kuiper Airborne Observatory Information, click HERE
N ASA's Kuiper Airborne Observatory (KAO) is the world's only airborne astronomical research facility. This unique observatory allows astronomical observations from anywhere on Earth with freedom from cloud cover and water vapor attenuation.
| | |
| --- | --- |
| The KAO, based at NASA/Ames Research Center in Mountain View, California is a converted C-141 military cargo plane carrying a 36-inch reflecting telescope. Since beginning operation, the KAO has been the scene of several major discoveries, including the first sightings of the rings of Uranus and a definitive identification of an atmosphere on Pluto. | |
| | |
| --- | --- |
| Click the "more info" button for more info about the Kuiper Airborne Observatory. | |
| | |
| --- | --- |
| Click the "more info" button for more info about the personnel involved with Project LINK. | |
---
"This project was funded by NASA Grant NASW-5022 to
Eureka Scientific, Inc."
---
---
©2013 Exploratorium , Pier 15, San Francisco, CA 94111