Look through your lens at these words or at your fingertip. Do things look bigger through your lens? If they do, your lens is a magnifying lens. It will work for this experiment.

Go into a room that has just one source of light. On a sunny day, a window works just fine. (Turn off any electric lights in the room.) At night, you can turn on your TV set and use it as a light source.
You're going to use your lens to make a picture of the light source. So you want a light source that will make an interesting picture. A picture of an ordinary lightbulb is just a round spot, which is pretty boring.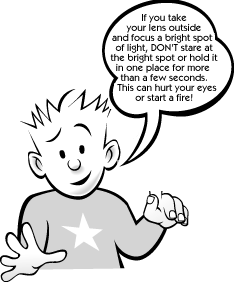 Stand a few feet away from your light source. Hold your lens up so that light can shine through it. Hold the piece of paper on the other side of the lens so that light shines through the lens and onto the paper.
The paper is your screen-like the screen in a movie theater. The paper screen will reflect a picture made of light so that you can see it.